Streamline Your Mobile Dental Practice with
Dentulu's cloud based software
Dentulu Mobile dental software can help automate and streamline the processes for mobile dental providers. With features like appointment scheduling, payment collection, charting, and appointment notifications, mobile dental providers can focus on providing quality dental care while the software handles the administrative tasks. The integration with tools like MouthCAM and Pearl.ai also allows for easier remote consultations and x-ray analysis, making it easier for providers to serve patients in remote locations. By using a mobile dental software, providers can increase efficiency and provide a better experience for their patients.
Key Features of Our Cloud-Based Mobile Dental Software
Book appointments on behalf of patients
Collect payments and Basic charting
Use MouthCAM for remote dental exams
Prepare treatment plans and payments
Notify patients via SMS or email
Two-way appointment acceptance
Request appointments
Set service area by zip code with map feature
More capabilities for managing mobile dental appointments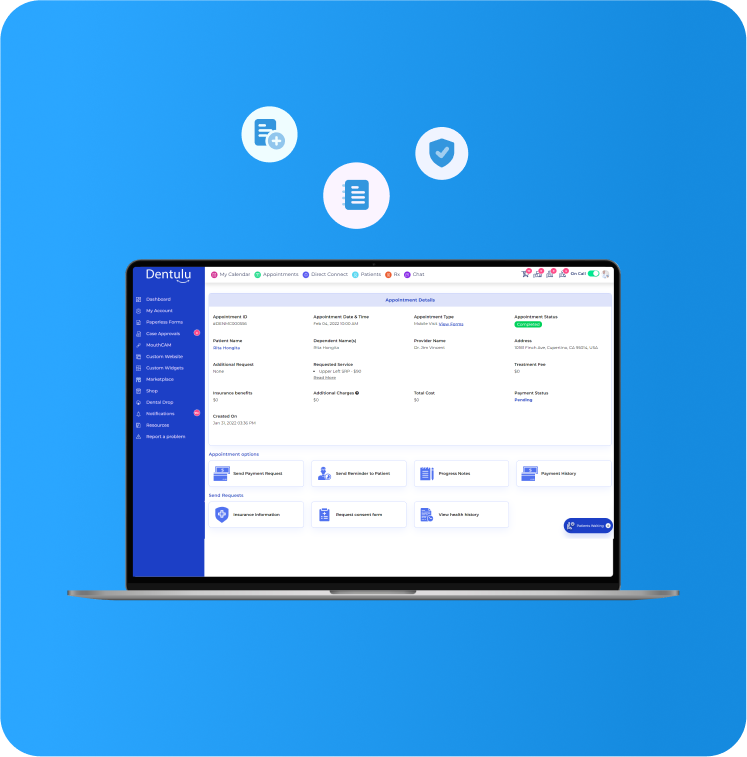 Why is Dentulu the
best choice for you?
Know how to provide high-quality oral care for your patients without any hassle!
Access patient information anywhere
The Dentulu app allows you to have virtual consults with ease and see patient charts and images in real-time. You can do this anywhere as long as you have an internet connection.
Monitor your mobile performance
Dentulu allows you to easily monitor the performance of each branch, office, or individual within your medical practice, so you can keep track of patient volume and staff utilization
Improve your patient experience
Our app can help your mobile practice deliver a more convenient patient experience by allowing online booking, registration, and payments
Increase your team's capacity
Dentulu provides you with accurate and efficient charting, as well as built-in (and customizable) forms to save your team time
Not yet
convinced?
Dentulu offers a complete solution for mobile dental providers with its innovative cloud-based software. Our platform streamlines the entire process from appointment scheduling, charting, treatment planning, payment collection and more, making it easier for you to manage your mobile dental practice. With features like real-time communication with patients, appointment confirmation, and insurance eligibility check, you can ensure a smooth and seamless experience for both you and your patients. With integrated partners like MouthCAM, Pearl.ai, and OralDNA, you can also provide more advanced services and treatments to your patients, regardless of their location. By using Dentulu, you can focus on delivering quality dental care, while we take care of the administrative tasks. Join the largest dental marketplace in the nation and take your mobile dental practice to the next level.
FAQs
Dentulu's mobile dental software is a cloud-based platform that provides dental professionals with tools to manage their mobile dental appointments, including booking, charting, payment collection, and appointment notifications.
Dentulu's software streamlines the administrative tasks of mobile dental providers, allowing them to focus on providing high-quality care to their patients. The software includes features such as appointment booking, charting, payment collection, appointment notifications, and treatment planning.
Dentulu has partnered and integrated with various partners such as MouthCAM, Pearl.ai, and OralDNA to provide mobile dental providers with comprehensive solutions for their practice. Dentulu can also work alongside any practice management softwares.
Yes, Dentulu's software is designed to be mobile-friendly and can be accessed on any device with an internet connection.
Dentulu follows industry-standard security protocols to ensure the security and privacy of patient data. The software is also HIPAA-compliant.
The cost of Dentulu's software varies depending on the specific needs and size of the mobile dental practice. Contact Dentulu for more information on pricing and to schedule a demo.
See more FAQs