Revolutionize Your Dental Practice with
Dentulu's Innovative Platform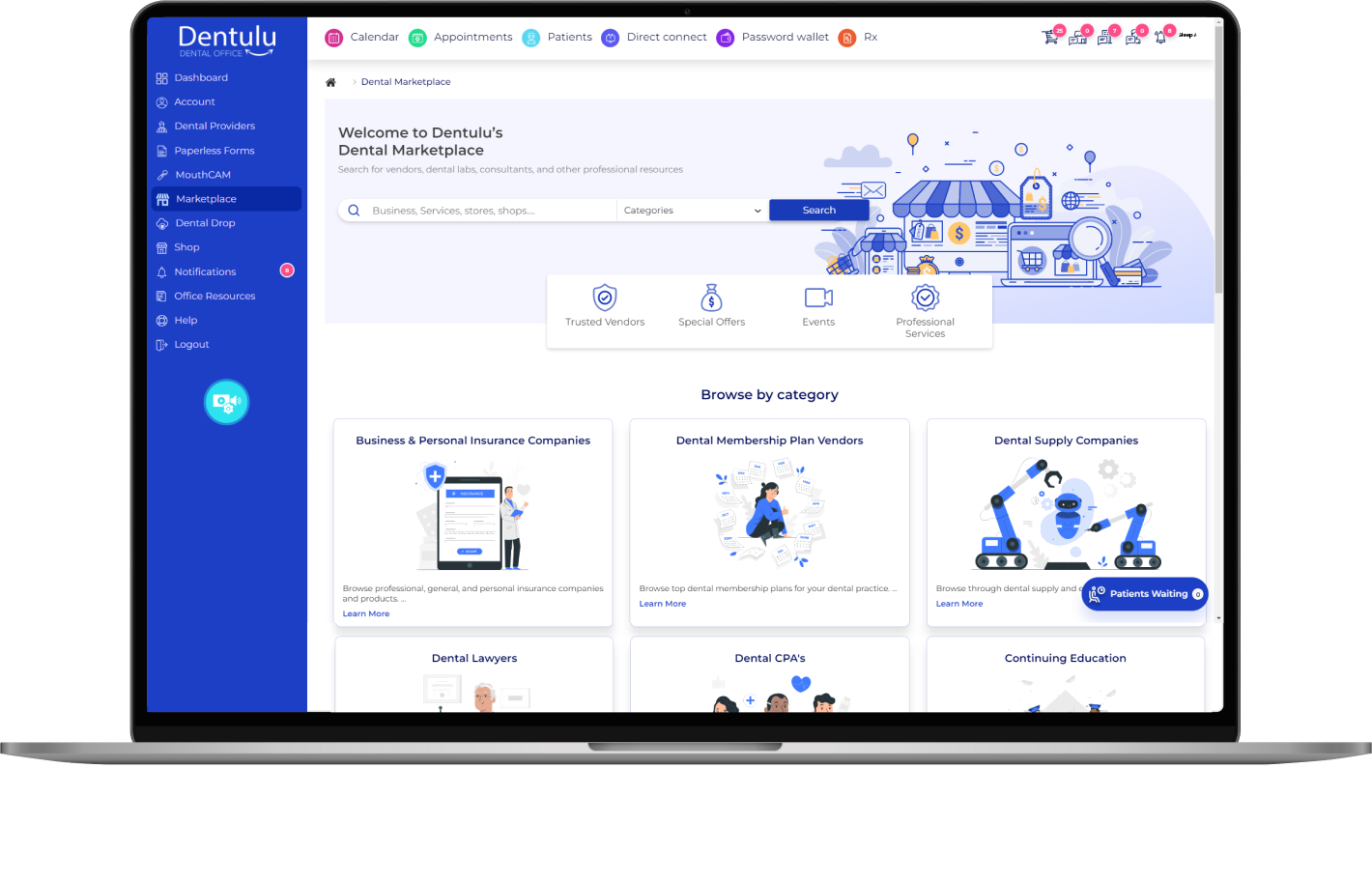 Dentulu offers a revolutionary solution to help dental professionals streamline their operations and enhance their patient care. Our cutting-edge platform provides dental professionals with convenient, on-demand access to critical product information and support, right at their fingertips. With Dentulu, you can easily access information about the latest dental products and technologies, and stay up-to-date with the latest industry news and trends. This enables you to make informed decisions about the best products and services for your patients, and improve the quality and efficiency of your dental practice. Whether you're in the office, on the go, or at home, Dentulu gives you the flexibility to access the information you need, whenever and wherever you need it.
Access to a wider range of products and services
Dentulu's Dental Marketplace offers a diverse range of products and services, making it easier for dental professionals to find what they need, compare prices and make informed purchasing decisions.
Competitive pricing
By accessing products and services through Dentulu, dental professionals can enjoy competitive pricing and avoid overpaying for products they need.
Convenient ordering process
Dentulu's marketplace provides a seamless ordering process that allows dental professionals to place orders for products and services with ease.
Time-saving
Dentulu's marketplace eliminates the need for dental professionals to search for products and services from multiple sources, saving them time and effort.
Quality assurance
All products and services listed on Dentulu's marketplace are thoroughly vetted and screened to ensure they meet high quality standards.
Personalized recommendations
Dentulu's marketplace uses advanced algorithms to provide dental professionals with personalized recommendations for products and services that best meet their needs.
Exceptional customer support
Dentulu's marketplace offers excellent customer support via chat, email or phone to help dental professionals with any questions or concerns they may have about using the platform.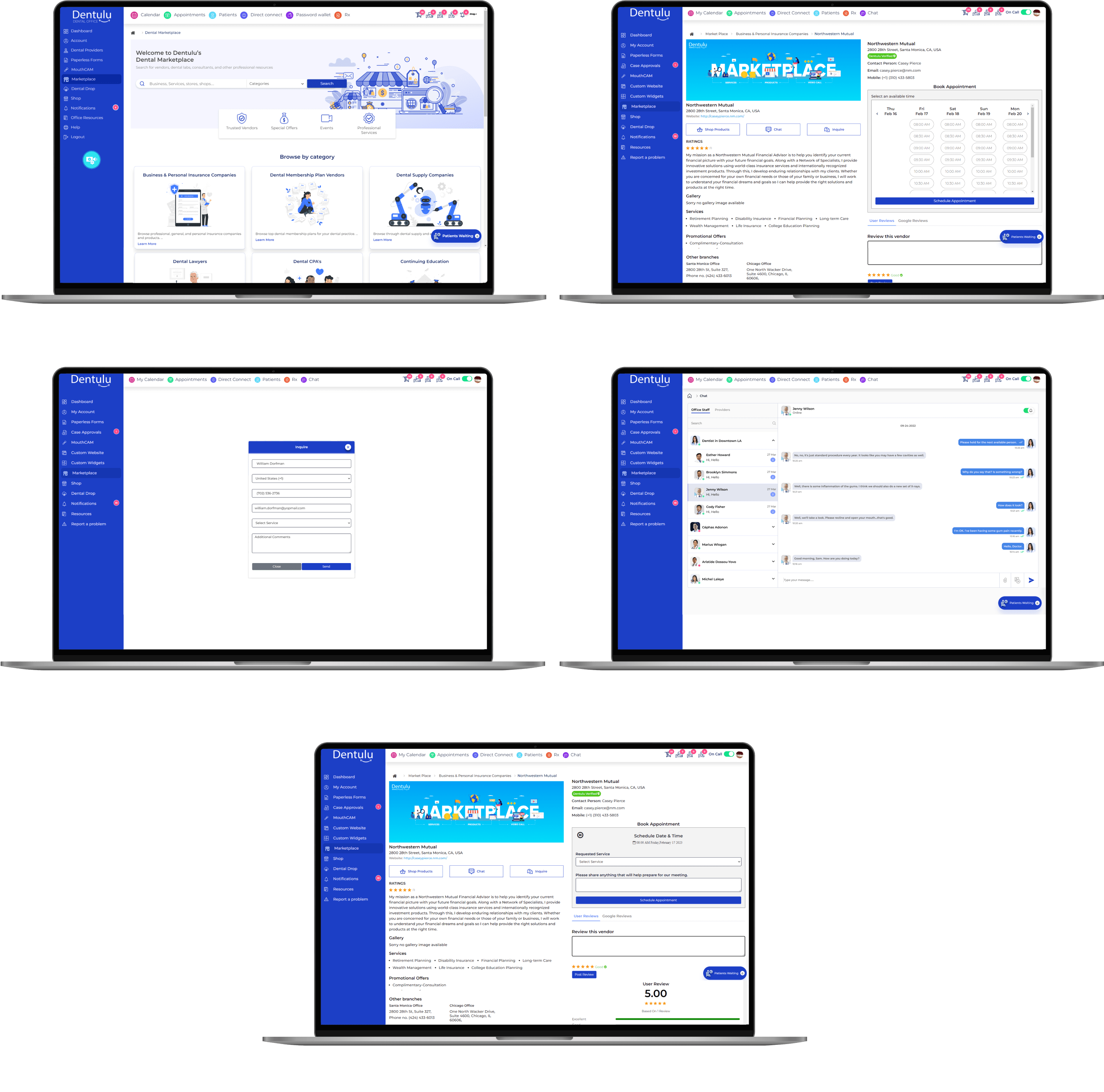 Convenient way for
Dentist and sellers to connect
We offer a wide variety of high-quality dental services/ equipment/staffing that can help you provide the best care for your patients.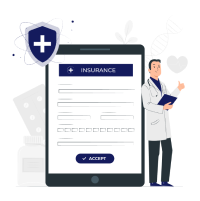 Business & personal insurance companies
Browse professional, general, and personal insurance companies and products. Explore and find the right one for you.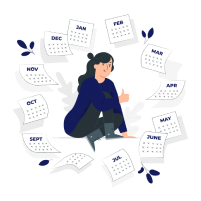 Dental membership plan vendors
Dentulu marketplace offers a wide variety of membership plans for dental practice professionals. It includes everything in the Professional plan, top featured services/ products listing, and more.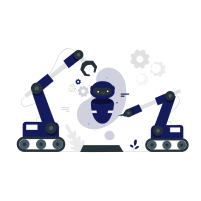 Dental supply companies
Dental Marketplace is the easy way to find the dental supplies and equipment you need, so you can focus on what's important: providing the best possible care for your patients.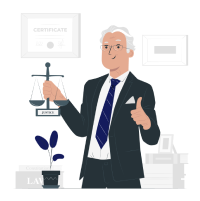 Dental lawyers
Browse for dental malpractice, labor, contract, and disability lawyers on this marketplace. This is a convenient way to find the right lawyer for your needs, and you can read reviews from other dental providers to find the best fit for your case.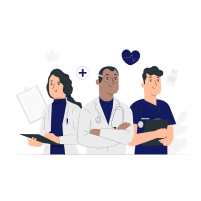 Dental CPA
If you're looking for a dental CPA or financial accountant for your practice, you've come to the right place. Here at Dentulu Marketplace, we have a wide selection of providers to choose from.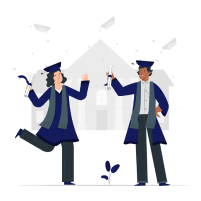 Continuing education
You can find a list of the top dental continuing education providers in the nation on the website. These providers offer a variety of courses and programs that can help you stay up-to-date on the latest dental procedures and techniques.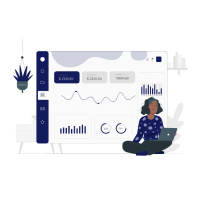 Marketing companies
There are many marketing and advertising companies that offer dental marketing services. This will ensure that your marketing and advertising campaigns are tailored specifically for dental providers and that you are getting the most bang for your buck.
Consultants
Dental providers can find top-quality practice management, business, and professional consultants through our app. We offer a wide variety of services to help you to run their businesses more efficiently and effectively.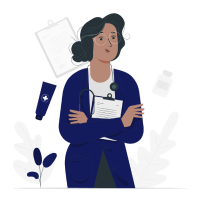 Dental Conventions / Trade Shows
If you're a dental provider looking for popular conventions and trade shows, you've come to the right place. Here, you can search for upcoming dental conventions and trade shows, as well as find out more information about each event.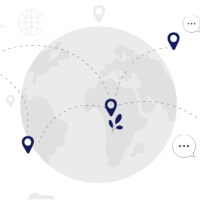 Dental staffing and HR solutions
Looking for top dental staffing and HR solutions? Look no further than the Dental staffing and HR marketplace! With over 1,000 providers to choose from, you're sure to find the perfect solution for your needs.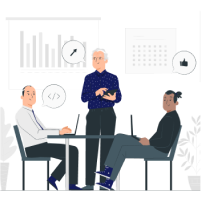 Equipment and hand-piece repair
When you need dental equipment or hand-piece repair, you can browse through experienced companies that provide these services. This can help you find the right provider for your needs and ensure that your equipment is in good working condition.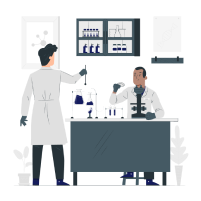 Dental labs
If you're looking for top dental laboratories to partner with for your dental practice, you've come to the right place. Our marketplace is full of high-quality dental labs that can meet your needs and help you provide the best care for your patients.
Communicate
Dentulu marketplace fosters communication between providers and vendors with easy access to product information and support, making it an efficient way to collaborate. Vendors can directly provide data sheets and answer product queries from providers, enabling better and faster decision-making. Communication takes place seamlessly, from the platform's chat feature to direct messaging.
Email
Dentulu's Marketplace provides a simplified email communication system for providers and vendors on a thread view. This allows for easy tracking and organization of communication between parties, leading to more efficient and effective collaboration.
Live video conference
Dentulu's virtual video appointments allow providers to easily connect with vendors through a seamless in-app experience, similar to Zoom. This eliminates the need to switch between different platforms, streamlines communication, and provides a more convenient experience for all parties involved.
Chat
Dentulu's end-to-end encrypted in-app chat provides a secure platform for vendors and providers to communicate through the Marketplace. It ensures privacy and allows for seamless communication in real-time. Providers and vendors can easily exchange messages, files, and media while knowing that their information is safe and confidential, and HIPAA compliant.
FAQs
The Dentulu Marketplace is a platform for dental providers to purchase a variety of dental products and services from different companies. It offers a convenient and easy way for providers to browse, compare, and purchase products and services that they need for their practice.
A provider can access the Marketplace through the Dentulu platform. They can sign up for an account and log in to browse and purchase products and services.
The Marketplace offers a wide range of dental products and services, such as equipment, supplies, professional services and many other categories. Providers can find products and services that meet their specific needs and budget.
Yes, providers can purchase products and services from a variety of companies through the Marketplace. This gives them access to a large selection of products and services from multiple sources.
Dentulu provides a secure and convenient payment system for providers to make purchases on the Marketplace. The payment system ensures that transactions are processed securely and efficiently. Shipping arrangements for the products and services purchased are directly done by the vendors on the platform, ensuring that providers receive their orders promptly.
Providers can browse and purchase products and services on the Marketplace through their Dentulu account. They can use filters and sorting options to find the products and services they need, and can add them to their cart and proceed to checkout to complete the purchase.
Dentulu provides support to providers using the Marketplace through various means, such as phone, email, and live chat. If a provider encounters any issues or needs assistance, they can reach out to the Dentulu support team for help. The support team is dedicated to ensuring that providers have a smooth and successful experience using the Marketplace to purchase products and services.
Providers can message companies and their representatives through the Marketplace to ask questions or request additional information about products.
Yes, providers can request resources such as data sheets, product specifications, and other materials from companies selling products on the Marketplace.
Providers can leave reviews and ratings for products purchased through the Marketplace, which can help other providers make informed purchasing decisions.
See more FAQs