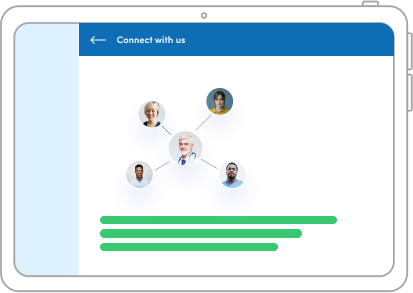 Create account
Register account with basic information like name, email & documents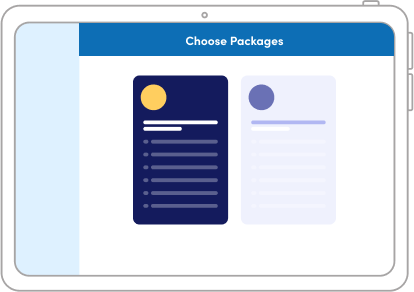 Connect with us
Let us know what your business needs are so we can better assist you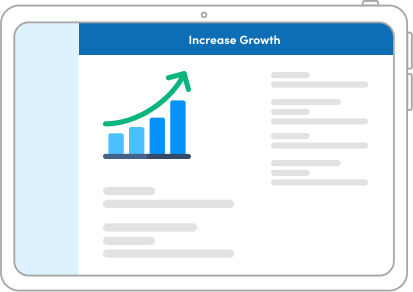 Tailored plan
We can help you with creating a business plan that is tailored to your needs which can help you grow business to new heights
Web designing service for
dentist
Search Engine Optimization (SEO)
We are committed to helping you provide the best possible user experience to your patients through our expert dentist web design. We bid on industry-related search phrases, manage your local listings and build your site structure to ensure your website is optimized for search engines and online users.
Web design and development
At our dentist web design service, we can help reduce your bounce rate and increase your dwell time. We do this by improving your site speed, removing unnecessary codes and plugins, simplifying your navigation, and enhancing your site's mobile-friendliness. By implementing these practices, we can help you maximize your website's online traction.
WordPress expert
We can help you find the right web hosting plan and use Google Analytics to improve your site performance. We can modify your permalinks, install plugins, customize your themes, and publish content. Let us help you optimize your website and give you a competitive edge.
Content writing
At Dental Content, we build valuable, trustworthy content that your patients can rely on. Our content specialists create blog posts, ads, and social media content that address common dental questions and concerns. We cover topics such as dental issues, oral healthcare, and the latest dental trends. With our content, you can be sure that your patients are getting the information they need from a source they can trust.
Responsive web design
At Dentulu, we focus on making your website easy to navigate, with a strong visual hierarchy, and consistent and accessible across all devices. Our team can also add online billing, appointment scheduler, and online payment options to your website, depending on your needs.
Custom web design
The dental website design experts at our company create websites that reflect your dental services and core beliefs. We make sure that your site is clean, professional, and easy to use. In addition, we optimize your website for search engines and track your website's performance.
Website Hosting
At our dentist web design agency, we provide free malware removal, online support, site security, and virtual private hosting services. These solutions are designed to offer you better web security and less downtime. If you have specific requirements, please let us know and we'll be happy to help.
Video production
At our dentist web design agency, we provide free malware removal, online support, site security, and virtual private hosting services. These solutions are designed to offer you better web security and less downtime. If you have specific requirements, please let us know and we'll be happy to help.
Email marketing
Our team of dentist web designers can help you create an email newsletter campaign that will help you build your client list and keep your patients up-to-date on your new services, updates, and promotions. This will help position your practice as an industry expert.
Powerful tools

for your website from Dentulu
Dental
website widget
There's no need to rephrase codes, just copy and paste them! Our custom widget allows you to quickly and easily add teledentistry services to your website. Ready for your custom website?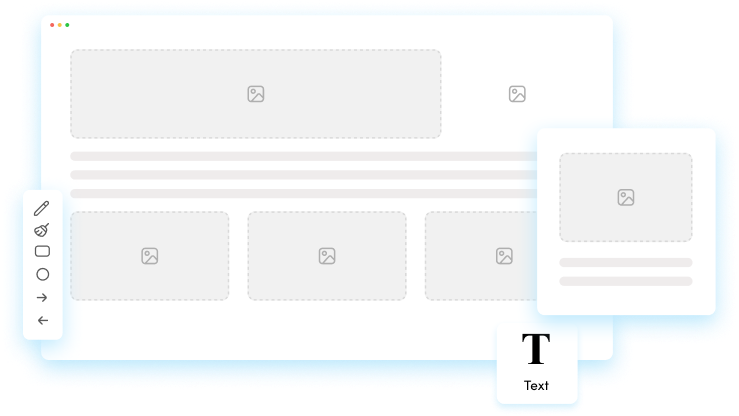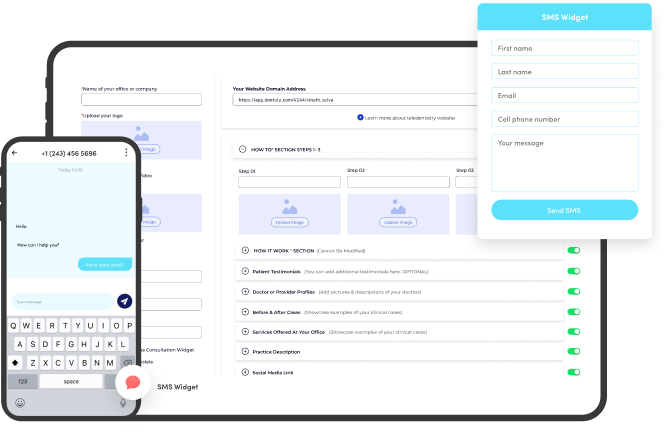 How does the
SMS widget

work?

Having a custom SMS widget on your website enables you to do many things, such as sending SMS to patients about treatment plans, appointment schedules/reschedules, and more.
How does
photo consultation

work?

Enable this widget to provide photo consultations on your website. This way, patients can upload photos of their teeth and gums and receive a consultation from you without visiting the office. Also, there is an option provided with a toggle switch, if you want to charge for photo consultation.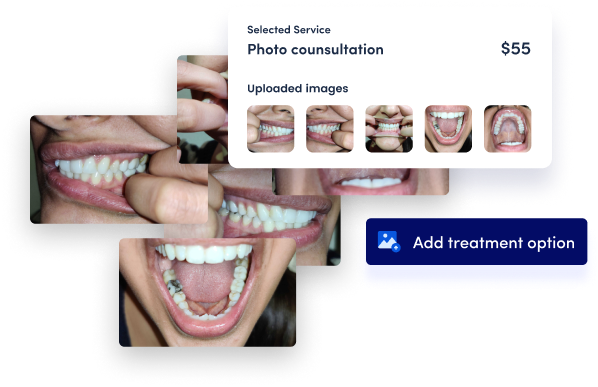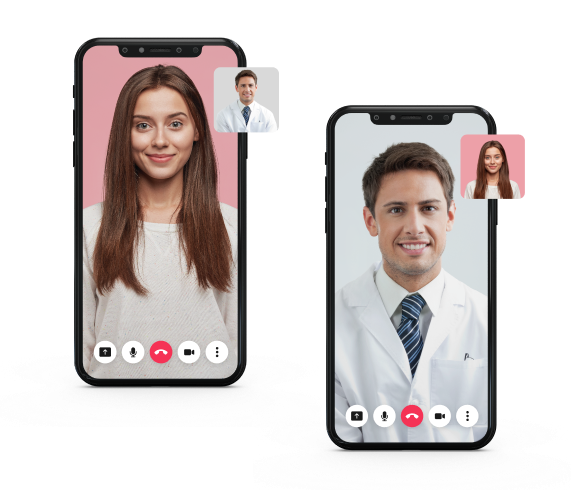 How does the
video consultation

widget work?

Widgets are small apps that can be placed on a widget host like the home screen or lock screen of your Android device. A widget runs as part of the process of its host, so it has the same permissions as its part of the app.
Need
help?
If you're unsure about how to integrate the widget into your website, we have an explanatory video that answers all your queries.
Patient personal information
The patient enters their personal information, which can be exported to your practice management software making it easy to identify your patients
Improving patient experience
You can ask your patient about their preferences and how soon they would like to start the treatment, making it easier for both of you
Sending in pictures
The widget makes it easy for patients to upload photos in the format of their choice for assessment
Get notified on submission
We notify providers or the office via SMS or email when a patient submits their information through our secure widget. This widget goes directly into your photo consultation appointments.
Patient data is saved securely
Dentulu is committed to security and protecting patients' data. Our HIPAA compliance and partnership with servers like Amazon Web Services ensure that patient information is always safe.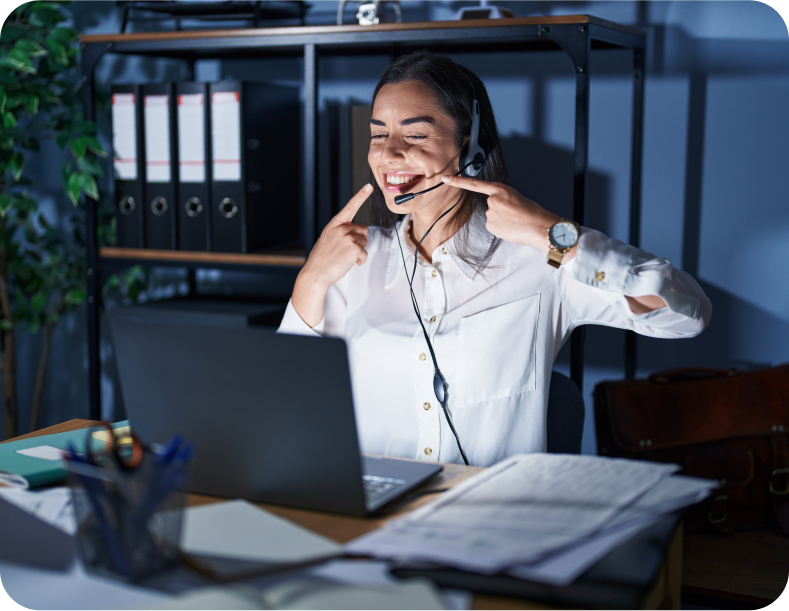 Why choose

Dentulu?

We specialize in creating websites that showcase your skills and expertise
Diverse client portfolio
Our digital marketing service has partnered with hundreds of clients from various health industries. We have helped businesses achieve their marketing goals, including dental practices, healthcare, law firms, labs, and insurance companies.
Mobile-first site design
Our mobile-compatible web design services can help you reach more patients in need of your dental services. Our web specialists can include a viewport meta tag on your website, turn off autocorrect for form fields and compress your images and CSS to make your site mobile-responsive.
Digital presence
Our team of dentist web designers and social media marketing specialists will work together to build your online presence. We'll use our review widgets to help build your brand authority and establish social proof. You can trust us to give our all to your campaign.
Web design specialists
We are confident in our abilities to work alongside you and provide the best possible web design and development experience. Our team has a wealth of industry experience and skills that we can bring to bear on your project. We also have an extensive portfolio of previous work to show you, as well as the technical expertise and data-driven approach that we use on all of our projects.
Innovative web solutions
Make your website more effective at converting visitors into customers with the help of Thrive's web design experts. We build websites on various content management systems (CMS) and eCommerce platforms, and always follow best project management practices to make sure your site is delivered on time and up to your expectations.
FAQs
The length of time it takes to design a website depends on the scope and complexity of the project. However, we typically recommend allowing 4-6 days for the entire process from start to finish.
The cost of website design varies depending on the scope and complexity of the project. However, we typically recommend a budget of $3,000-$6,000 for most dental practice websites.
Our team will work with you to determine the scope of your project and determine what services will be included in your project cost. Services typically include website planning and strategy, graphic design, content development, and website coding and development.
Some projects may require additional services such as search engine optimization (SEO), pay-per-click (PPC) advertising, or social media marketing. These services are typically not included in the initial website design cost but can be added on for an additional fee.
Yes! We offer a variety of maintenance and support packages to keep your website up-to-date and running smoothly. We can also provide training on how to update your website content yourself if you prefer.
See more FAQs